For Adult Renewals (PC7 only), you can mail us your
passport application
You must be 18 years or over and have a passport that:
was issued when you were aged 16 or older

was issued on or after 1 January 2006

had, when it was issued, at least two years' validity

has your current name, date of birth, place of birth and gender, and

has not been reported lost, stolen, or cancelled.
If you can answer yes to all to the above, please follow the guide below.
If you don't meet these criteria, or would prefer to lodge your application in person, please book an appointment at our Embassy in Copenhagen:
in Copenhagen, Denmark
Guide for Adult renewal application (PC7) by mail
1. Complete your renewal application form online
The application must be lodged within six months of completion.
2. Print and sign your application form
Print your application on plain white A4 paper, using black ink only. Make sure your form has printed in full and isn't cut off at the top or bottom of the page.

Sign the form using black pen, within the signature box. Make sure there are no alterations or whiteout on the signature or the date.
3. Photos
Two recent identical colour photos, less than six months old, with your full name written on the back of one photo. Refer to the photo guidelines for more information.

Please do NOT attach the photos to the form as this may damage them.
4. Payment
Complete the payment authorisation form on our fees page.
5. Post your application
Please send your completed application form, passport photos and payment authorisation form to:

Australian Embassy Copenhagen
Attn: Passports
Dampfærgevej 26, 2nd floor
DK-2100 Copenhagen Ø
Denmark

Please don't send your passport with your application.

Incomplete applications will cause delays.
6. We'll tell you when your passport is ready
We will email you when your passport has arrived at the Embasssy for you to collect, or with the postage tracking details if you have paid for us to post it to you.
PC7 - Frequently Asked Questions
Do I send my current passport with the renewal application?
No.
Do I need to send a copy of my passport with my application?
No.
How will I know if the Embassy has received my application?
Unless you are contacted directly about your passport application, an acknowledgement of payment in your bank records is confirmation your application has been received and processed. We will not charge your card until your application is complete, including any documents or photos.
How long will it take?
Passports are currently taking around ten weeks from receipt of a fully completed application and payment to arrive at the Embassy. Incomplete applications will cause delays.
What if I need to travel urgently, but already mailed in my renewal application?
Please contact the Embassy on +45 7026 3676 or email

[email protected]

to discuss options.
Will the Embassy post my new passport to me?
We will post your new passport to the postal address provided on your passport renewal application form (PC7), using the postal service you have chosen and paid for via your payment authorisation form. Registered post takes 3-5 business days, DHL takes 1-2 business days, or we will hold it at the Embassy for you to collect. If your circumstances have since changed, please contact the Embassy on +45 7026 3676 or email

[email protected]

to discuss options.
My passport has expired. Can I still renew it by mail?
If you meet all of the eligibility criteria for a PC7 renewal form, then yes, you can renew your passport by mail - even if it has expired.
Where do I sign my PC7 renewal form?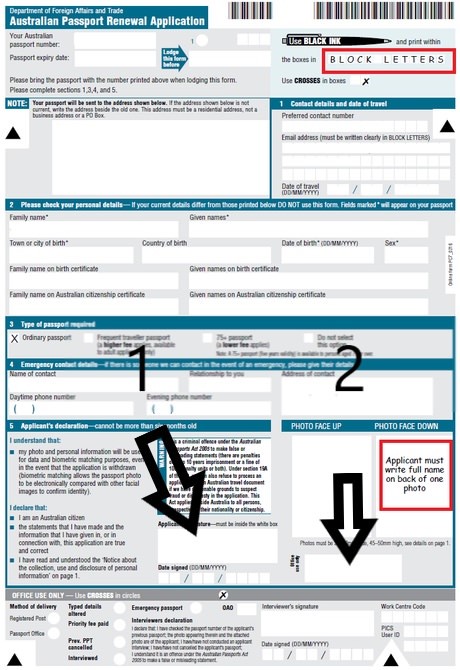 Please sign your name inside the white box marked '1'

If any part of your signature is outside the white box, please sign again in the second box marked '2'

Applications where the signature is outside the box, or where the white box is not visible, will not be accepted.
Updated on 29 September 2022